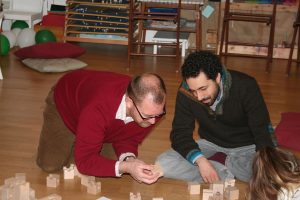 To coach parents who want to grow with their children, as Rebeca Wild called our inner growth, is dear to me.
It is important for me to help you to go your own way – exactly as I would do it with the children. It is you who gives the aims and sets the direction.
I will act respectful, mindful and offer to be a mirror. I care for the processes which arise in our work together. My part is to care to a safe environment which allows you to open yourself.
Observations, videos, notes, reflection and discussion can be used.
I am convinced that you as mother or father are able to establish a prepared environment at home and care mindful for the children within that.